DIScover Jr.'s is our child enrichment program geared around sports. Our program focuses on helping children build strong physical, intellectual and emotional skills that will help them be successful on and off the field and court. Children will learn basic skills of their respective sports program, as well as have fun with their peers and phenomenal coaching staff!
To find out more about DIScover Jr.'s Multisport and the building blocks behind it, read "Q and A with Sandy Mahoney, DIScover Program Coordinator: DIScover Jr.'s Multisport in Danvers and Wilmington – Ages 2-3 and 3.5-5 or contact sandy@danversindoorsports.com for more information.
DIScover Jr.'s Multisport – Danvers and Wilmington
DIScover Jr's. Multisport is a 5 week program for ages 3.5-5 that introduces young athletes to volleyball, football, track and field, and lacrosse through fun games and activities. Each week athletes will be taught the fundamentals of a specific sport while also developing their gross motor skills, using teamwork, and having fun!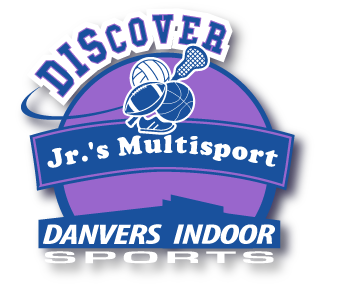 JOIN ANYTIME!
Cost: $75.00*
JERSEY INCLUDED!
FALL 2 SESSION:
DANVERS ($30 annual membership required)
Wednesday 12:00-12:50PM Ages 3-5 (independent)
Friday 10:00-10:50AM Ages 2-3 (with parent)
Friday 11:00-11:50AM Ages 3-5 (independent)
11/13, 11/20, 11/27, 12/4, 12/11
WILMINGTON
Monday 10:00-10:50AM Ages 2-3 (with parent)
Monday 11:00-11:50AM Ages 3-5 (independent)
11/9, 11/16, 11/23, 11/30, 12/7
Thursday 10:00-10:50AM Ages 3-5 (independent)
Thursday 3:00-3:50PM Ages 3-5 (independent)
11/12, 11/19, 12/3, 12/10, 12/17
Questions Email:
Q and A with Sandy Mahoney, DIScover Program Coordinator: DIScover Jr.'s Multisport in Danvers and Wilmington – Ages 3.5-5
What changes have been made to the DIScover Jr.'s Multisport program?
DIScover Jr.'s Multisport program allows young athletes the opportunity to try unique and popular sports utilizing fundamental movements that benefit the entire body: balancing, running, jumping, catching, hopping, throwing, galloping, skipping, leaping and kicking. These movements are the building blocks for more complex skills that children will learn throughout their lives to participate in sports and active play recreationally and competitively.
How did you develop the curriculum to help kids be more active?
The core of the curriculum puts the FUN in fundamental. Each activity and game is designed to engage every child and challenge them to the best of their abilities. We celebrate small successes through a progressive approach. To some children certain movements may be new or awkward but through repitition and encouragement, they begin to develop the skill set along with a great sense of pride and achievement when they do.
What should parents and children expect when coming to a DIScover Jr.'s Multisport class?
Families can expect 50 minutes of high energy, non-competitive, and age appropriate games and activities. At the end of every class, we want every child and parent to leave having had a great experience and looking forward to the next time.
What are the goals for the program?
The introduction of multisport activity benefits kids. DIScover Jr.'s multisport introduces one sport per week so kids get a chance to learn different types of movement and sport skills. That, along with socializing safely, problem solving, teamwork, communication and working cooperatively with peers while using their listening skills to follow coach's direction, are all aspects of every sport and in a larger sense life.
Can you please explain the policies and procedures for classes during this time?
Danvers Indoor Sports follows Massachusetts Covid-19 guidelines. Our coaches will wear a mask for the entire class. When 6 feet of physical distancing is possible, the children are not required to wear masks but in instances where they are in closer contact, masks are required. With a medical note, there are special circumstances where children are excused from wearing masks.
Before each class, staff will meet families outside the building, do a temperature check, use the hand sanitizer station, and walk them to the field or court while masked. Through any common areas we require masks to be worn and also when exiting. At the beginning of each class, they will have their own distanced 'spot' for introductions and instruction and masks are not necessary then as they will be at least six feet apart.  During class, we will keep reminding them to space out when working on specific skills and cooperative activities. And we'll end each class with a collective cheer.